AutoCAD 2022 Tutorial First Level 2D Fundamentals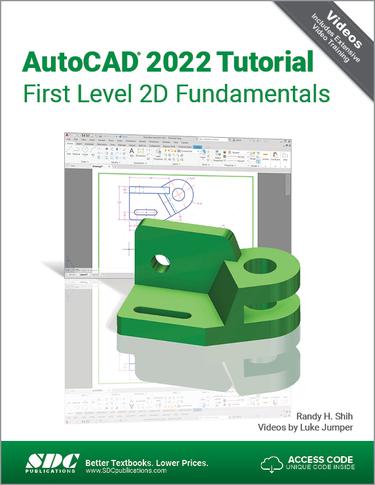 Already purchased in store?
Additional Book Details
The primary goal of AutoCAD 2022 Tutorial First Level 2D Fundamentals is to introduce the aspects of Computer Aided Design and Drafting (CADD). This text is intended to be used as a training guide for students and professionals. This text covers AutoCAD 2022 and the lessons proceed in a pedagogical fashion to guide you from constructing basic shapes to making multiview drawings.
This textbook contains a series of twelve tutorial style lessons designed to introduce beginning CAD users to AutoCAD 2022. It takes a hands-on, exercise-intensive approach to all the important 2D CAD techniques and concepts. This text is also helpful to AutoCAD users upgrading from a previous release of the software. The new improvements and key enhancements of the software are incorporated into the lessons. The 2D-CAD techniques and concepts discussed in this text are also designed to serve as the foundation to the more advanced parametric feature-based CAD packages such as Autodesk Inventor.
The basic premise of this book is that the more designs you create using AutoCAD 2022, the better you learn the software. With this in mind, each lesson introduces a new set of commands and concepts, building on previous lessons. This book is intended to help readers establish a good basis for exploring and growing in the exciting field of Computer Aided Engineering.
Video Training
Included with every new copy of AutoCAD 2022 Tutorial First Level 2D Fundamentals is access to extensive video training. There are forty-six videos with more than five hours of training in total. This video training parallels the exercises found in the text and is designed to be watched first before following the instructions in the book. However, the videos do more than just provide you with click by click instructions. Author Luke Jumper also includes a brief discussion of each tool, as well as rich insight into why and how the tools are used. Luke isnt just telling you what to do, hes showing and explaining to you how to go through the exercises while providing clear descriptions of the entire process. Its like having him there guiding you through the book.
These videos will provide you with a wealth of information and bring the text to life. They are also an invaluable resource for people who learn best through a visual experience. These videos deliver a comprehensive overview of the 2D tools found in AutoCAD and perfectly complement and reinforce the exercises in the book.